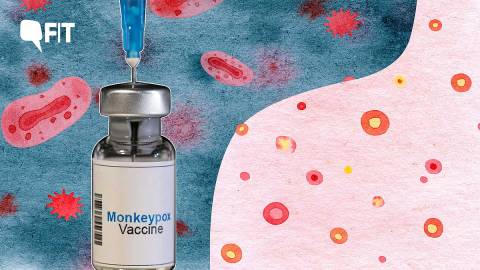 Monkeypox Vaccines: Your FAQs Answered By An Expert
Meanwhile, as of this report, the global monkeypox caseload has crossed 26,000, with 88 countries affected. India has reported at least 8 cases of monkeypox.
So, do we need to vaccinate for monkeypox? When will these vaccines be available? Will they have side effects? Can children and women take the vaccines without any problems?
FIT spoke to infectious disease epidemiologist Dr. Lalit Kant, former head of the Division of Epidemiology and Communicable Diseases at the ICMR.
Does India have a monkeypox vaccine?
No vaccine exists for monkeypox. But, the smallpox vaccine can be repurposed and used to treat monkeypox. The vaccines still need to be evaluated for efficacy against monkeypox but since the two are similar, it's likely the smallpox vaccine will help fight monkeypox.
With that said, since India doesn't have any strains of smallpox to synthesize a vaccine, a monkeypox vaccine also doesn't exist.
However, since the National Institute of Virologt (NIV) has isolated the monkeypox strain from the Kerala cases it's possible now to create a vaccine using the strain of the monkeypox virus that was isolated.
Well, in 1980 the World Health Organization declared that smallpox had been eradicated. After this declaration, the WHO asked countries which had strains of smallpox(used for vaccines) to either destroy the strains or hand them over to the WHO.
Like many other countries, India either destroyed or handed over the smallpox strains we had, to the WHO.
The vaccines haven't been evaluated against monkeypox, but since monkeypox and smallpox are closely related, it should protect around 85 percent protection from monkeypox.
Do the vaccines have any side effects?
Two kinds of vaccines exist. One is a vaccine made from the modified Vaccinia Ankara strain of the virus. It's the most purchased and sought after of the two vaccines. The other vaccine is called ACAM2000, and it gives rise to serious adverse events.
It includes side-effects that affect your heart. However, in the absence of other vaccines it's been approved for use in the US, Australia, and Singapore.