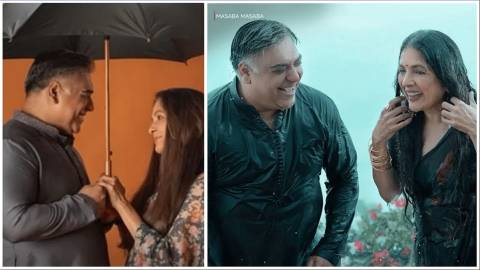 'Masaba Masaba 2' Got Me Thinking About The Politics of Age-Appropriate Casting
Sexism manifests in a plethora of ways in Bollywood. From narratives that only demand an exhibition of flesh from female actors to imposing a shelf life on their careers, misogyny in the film industry runs deep. One such trend that should've retired by the 21st century, is actors romancing actresses half their age on screen.
Sadly, this is becoming an increasingly common phenomenon. Such inappropriate casting is not only cringe-worthy to watch, but also has a clear and problematic power imbalance. Moreover, it still propagates the myth of an actress' "shelf life."
While a Salman or an Akshay are romancing 20-year-old actresses on screen, a Tabu or a Madhuri are playing mothers to young adults.
In this sea of disappointing casting, Masaba Masaba is a welcome change. Season 2 of the hit Netflix series pairs a 48-year-old Ram Kapoor with a 63-year-old Neena Gupta. Their bittersweet relationship, punctuated by furtive glances and flirtatious banter, is as refreshing as it is convincing.
Few films lately are embracing senior actresses and casting them opposite younger actors. No matter how unnoticeable the age gap is, it's still instrumental in turning tables in the film industry.
Here's a comprehensive list of some of such films:
Anil Mehta's dance/musical features a 40-year-old Madhuri Dixit opposite a 32-year-old Akshaye Khanna. Even though Diya (played by Dixit) and Raja Uday Singh's (played by Khanna) relationship wasn't in the forefront of the narrative, the hints of romance were essential in developing an enemies-to-lovers arc.
Ae Dil Hai Mushkil (2016)
Directed by Karan Johar and starring Ranbir Kapoor and Anushka Sharma as the protagonists, the film also features Aishwariya Rai Bachchan in a key role. After breaking off ties with Alizeh (Anushka), Ayan (Ranbir) gets involved in a brief but passionate affair with Saba (Aishwarya). When the film was released, Aishwarya was 42 while Ranbir was 33.
Amit Sharma's compelling situational comedy revolves around a 25-year-old man and his inability to handle the news of his mother's pregnancy.
Masterfully played by 59-year-old Neena Gupta, Mrs. Kaushik's character was a sensitive portrayal of aging and womanhood. Paired opposite a 47-year-old Gajraj Rao, the 12-year age difference was neither noticeable nor jarring.
Shubh Mangal Zyada Saavdhan (2020)
Much-loved duo Neena Gupta and Gajraj Rao were back in this Hitesh Kewalya-directed romantic drama. Their portrayal as a typical senior Indian couple grappling with their son's sexuality was a sincere depiction of the role familial acceptance plays in the LGBTQIA+ community. During the release of the film, Neena Gupta was 61 while Gajraj Rao was 49.
It's peculiar to see actresses playing the romantic lead until they reach a certain age and post that, they can only be imagined as mothers and sisters with no romantic inclinations or worse, mothers to their male counterparts.
The landscape of Bollywood might be cemented on unequal power imbalances and disproportionate privileges, but it is definitely shifting. Earlier, the only time we could see a 44-year-old Dimple Kapadia romancing a 26-year-old Akshaye Khanna was if the script (in this case, the 2001 blockbuster Dil Chahta Hai) demanded a glaring age gap.
It is no longer unlikely for male actors to be paired against their female contemporaries of the same age. Recent box office hits and misses point to the fact that Bollywood audiences are ready for a shift. They demand accurate and sensitive depictions of relationships, power dynamics and age-appropriate casting.