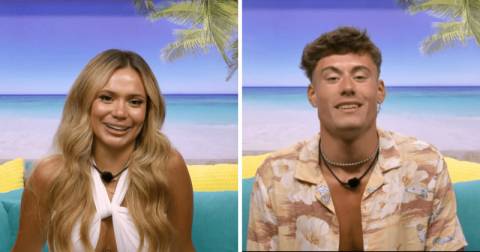 'Love Island' fans troll Nadjha for crying over Isaiah, say 'get her out man'
The heart wants what it wants, and for 'Love Island' USA star Nadjha Day her heart desires 21-year-old waiter Isaiah Campbell. Though Isaiah and she, hit it off almost immediately, when it was time to recouple, the young waiter decided to play it safe and chose to stay on with his current partner Sydney Paight instead of risking it all by recoupling with Nadjha.
While Isaiah got his closure, Nadjha sadly was left high and dry. Though she was picked by Jeff during the recoupling ceremony, Nadjha still couldn't get Isaiah completely out of her head. She kept thinking of him, and watching him with Sydney was turning out to be a painful experience for her. The recently aired episode of the reality dating show featured Nadjha feeling very overwhelmed by her situation and crying her eyes out. She cried about not being able to express her feelings for Isaiah and also feeling afraid of Sydney's reaction to her feelings for him. Zeta was moved by Nadjha's feelings and offered to help her out by talking to Sydney about it. Unfortunately for Nadjha, unlike Zeta, fans didn't take too kindly to her crying over a stranger. Many fans took to Twitter to call out Nadjha for drumming up the unnecessary drama with Isaiah while she was still coupled up with Jeff.
A fan tweeted, "Nadja is so embarrassing plz why are you crying over a man you don't even know???????? #LoveIslandUSA." "CRYING OVER BOX HEAD ISAIAH #LoveIslandUSA Nadjha, you don't even know him to be crying like he cheated on you," wrote a fan. "#LoveIslandUSA Isaiah having Nadjha crying over him is crazy though ngl like girl...you don't know him," commented a fan. "Nadjha crying over isaiah is actually insane like girl pls find some business #LoveIslandUSA," added a fan. "I also don't know why Nadjha is CRYING. Like, girl... BE SERIOUS. #LoveIslandUSA," declared a fan.
Another fan shared, "Nadjha crying was so lame. If you want to get to know Isaiah then talk to him tf. #LoveIslandUSA." "Nadjha admitted to have cheated so I'm… not surprised she's crying over this man #LoveIslandUSA," observed a fan. "I don't understand crying over a man you hardly know. Nadjha has Jeff but is crying over Isaiah? #LoveIslandUSA," echoed a fan. "Nadjha crying over Isaiah when Jeff is right there, get her out man #LoveIslandUSA," expressed a fan. "It's kind of wild that Nadjha is out here crying because she can't just have a guy she met less than 24 hours ago though. You got chose and it was not by him, focus on yourself girl. If he wants to talk to you he will #LoveIslandUSA," explained a fan.
'Love Island' USA Season 4 is exclusively available to stream on Peacock, with new episodes airing from Tuesday- Sundays, and Saturdays featuring recap episodes with unaired footage.
This article contains remarks made on the Internet by individual people and organizations. MEAWW cannot confirm them independently and does not support claims or opinions being made online.